Meth slamming is one of the most dangerous ways to abuse methamphetamine, and many individuals can fall into this consuming habit without realizing the side effects and consequences. This article explains what meth slamming is, why and where it's popular, the side effects and risks of meth slamming, and a brief outlook on harm reduction.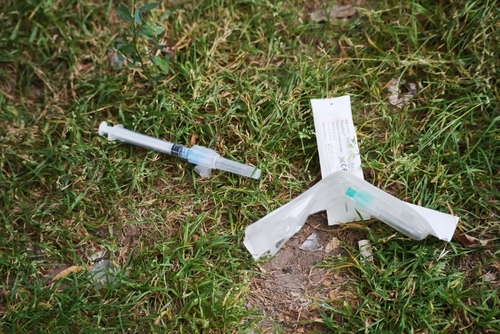 What Is Meth Slamming?
Meth slamming is another word for injecting or shooting up drugs; in this case, methamphetamine. Injecting any drug through your veins is the second fastest way to deliver substances to your brain, following smoking. However, this instant rush only lasts for a few moments, and it's common for users to repeatedly inject more meth (binging) to extend its effects. Besides genetics, underlying mental health disorders, and environmental factors, some research has shown that the faster a drug reaches the brain, the more likely it becomes addicting.
Meth slamming has become popular among gay males and the party scene. Like chemsex, which involves different drugs (like GHB/GBL, mephedrone, MDMA, and sometimes cocaine and ketamine), slamming can happen before or during sex to heighten or lengthen the experience. This can increase the chances of blood-borne diseases and infections.
Read more: How To Tell If Your Dealer Gave You Fake Meth
Crashing After Meth Slamming
One of the biggest and immediate side effects of meth is the "crash," which can last for multiple days after slamming meth for an extended period of time. The euphoric sensations from meth use are caused by a quick dopamine release, and users can become irritable once they wear off. Other feelings include restlessness, nervousness, and paranoia, along with mood changes, fatigue, and itching.
During this uncomfortable phase, individuals might prioritize meth over necessary activities like personal hygiene or eating to satisfy their cravings. They might ignore the effects needles have on their body, neglecting to care for sores, scabs, and infections caused by repetitive needle use.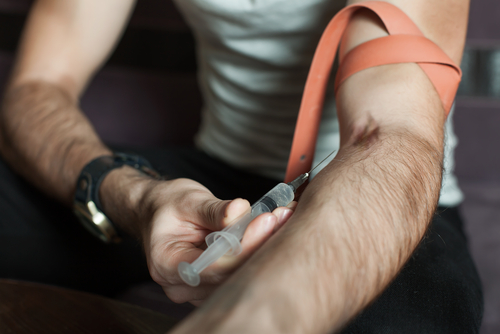 Side Effects & Risks of Slamming Meth
Some of the biggest side effects of slamming meth include:
Infections: The mix of a needle and syringe is sometimes called a "rig." In some cases, users have injected meth or other drugs into their muscles (muscling) or under their skin (skin popping). This can lead to abscesses, skin infections, and contracting blood-borne diseases, including HIV, hepatitis B, or hepatitis C. Slamming meth also raises the chance of taking too much and overdosing.
Chemical imbalances: Abusing meth can mess with how the brain works. Research shows that even if someone uses just a little bit of meth for a long time, almost half of the brain cells that create dopamine can get hurt. Meth and other stimulants can also mess up serotonin levels in the brain, impacting mood and motor skills. This might lead to problems with coordination, learning, feelings, and memory.
Paranoia, violent behavior, and delusions: Meth use can cause paranoia and delusions, leading to violent or physically harmful behavior. Users may believe strangers around them are out to hurt them, or they might believe a friend has stolen their meth or rig and threaten them or others. If an individual is a party or involved in a sexual experience, their paranoia and aggression can lead to violent or forceful acts.
Disease and organ failure: Slamming meth also puts individuals at a higher risk of developing Parkinson's disease, stroke, and heart attacks.
Other risks of slamming meth include:
Weight loss.
Dental problems or meth mouth (usually due to smoking or ingesting meth),
Itching and tactile (touch) hallucinations can lead to scabs and infections from scratching wounds.
Confusion, memory loss, and anxiety.
Psychosis, mood changes, and hallucinations.
Read more: Meth vs Crack: How Are They Different?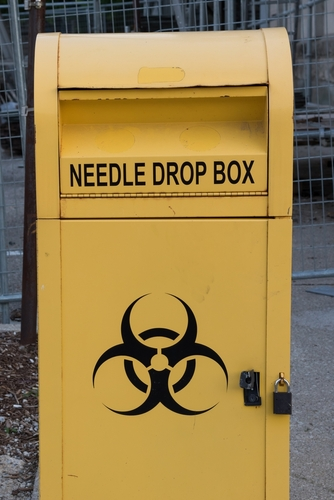 Harm Reduction With Meth Slamming
Harm reduction is using various tactics to make drug use safer, which could mean using less, being careful, or stopping. It's also about understanding people who use drugs and helping them based on their situation. This includes considering how they use drugs and the situations around them.
Because harm reduction aims to fit the needs of each person and their community, there's no one-size-fits-all approach. It's important to note that harm reduction doesn't try to downplay or ignore the real problems and dangers of using illegal drugs.
When it comes to meth slamming, harm reduction tips include:
Using clean needles and equipment.
Always inject yourself. Don't allow strangers to inject anything into you.
Always inject meth above the waist.
Do not inject methamphetamine if your skin is broken or inflamed.
Dispose of needles in safe places. It's important to prevent others from using dirty needles and prevent children or animals from coming in contact with meth.
Get regular tests for STIs and blood-borne diseases.
Treatment for Meth Slamming
Meth slamming is prevalent among individuals who've developed a methamphetamine use disorder, where their body has become dependent on its effects and chemicals. The body can struggle to produce as much dopamine and feelings of euphoria as meth did, slowing down its production and metaphorically allowing meth to take its job.
The most effective way to treat a psychostimulant use disorder (medical term) is through evidence-based therapy, structured detox and addiction programs, and holistic healing modalities. This creates a comprehensive meth addiction plan that addresses cravings, coping issues, tendencies, and habits.
Contact Knoxville Recovery Center
If you or someone you know is slamming meth, contact Knoxville Recovery Center. Our addiction treatment center is the perfect place to overcome meth addiction and reflect on the life drug abuse leads to. Our goal is to help clients find true wellness and recovery, and our aftercare plans help graduated clients return to daily life feeling confident and supported. If you're unsure where to start, one of our admissions agents can explain our levels of care and specialties.