If you want to know if Delta 8 is addictive, this is the article for you. Since the 2018 Farm Bill was passed, various forms of THC have stormed the market, popping up in gas stations, vape stores, online, and traditional smoke shops. This increase in unregulated cannabis products caused the FDA, DEA, and state governments to rethink the legality of the use and sale of Delta 8, mainly because there are too many unknowns.
This article answers the question "Is Delta 8 addictive," and breaks down the difference between an addictive substance, which most marijuana advocates will deny, and habit-forming substances.
What Is Delta 8?
Delta-8 THC is a compound found in cannabis that shares similarities with but is less potent than delta-9 THC (the primary compound responsible for the "high" associated with marijuana). While cannabis is federally illegal, delta-8 is considered legal since these products contain less than 0.3% THC, falling under the legal framework outlined by the 2018 Farm Bill.
This has made delta-8 a popular choice among young individuals with limited access to legal marijuana since they can buy it in almost the same forms, including vapes, tinctures, and edibles.
Many people assume delta-8 is non-addictive because it produces milder psychoactive effects than delta-9 THC. However, its addictive properties can affect everyone differently, and some individuals can be drawn to use substances even if they're not as potent as other drugs like meth, cocaine, or heroin.
Read more: What is 420?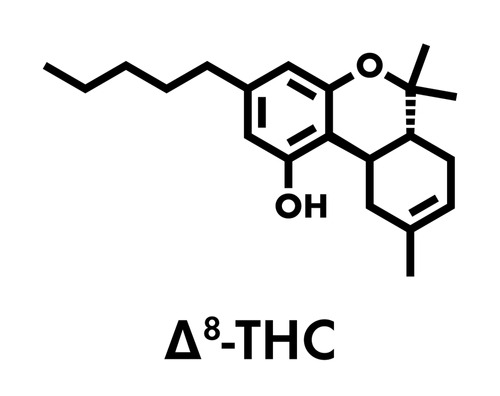 Is Delta 8 THC Addictive?
Any substance that alters your thoughts and behaviors, whether consciously or subconsciously, has the potential to be addictive. Delta-8-tetrahydrocannabinol is no exception to this rule and is considered addictive by most reputable organizations, including the American Psychiatric Association and the National Institute on Drug Abuse (NIDA).
In 2015, the Substance Abuse and Mental Health Services Administration (SAMHSA) reported that around 4 million people in the US meet the current diagnostic criteria for a cannabis/marijuana use disorder. But, only 138,000 people look for addiction treatment for marijuana use. This indicates that even though the drug has less potential to become addictive, individuals can still ignore the signs and consider themselves unaffected.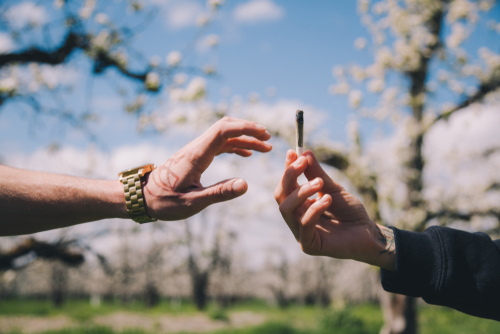 What Qualifies As Addictive?
Here are the current criteria outlined by the Diagnostic and Statistical Manual of Mental Disorders on how to identify an addiction to marijuana. A person must experience three of the following criteria within 12 months:
Tolerance: You'll need more cannabis to experience the same effects as usual. Heavy cannabis users may not realize they have developed tolerance and just assume they smoke more than others.
Withdrawal symptoms: These can include irritability, restlessness, loss of appetite, sleep difficulties, weight loss, shaky hands, and loss of motivation. Some individuals may show increased aggression after a week without using marijuana.
Continued use despite adverse effects: You should always take a mental health check and see if marijuana use is causing or worsening anxiety, depression, suicidal thoughts, or personality changes.
Giving up activities due to marijuana use: If you are constantly going out of your way to smoke or use cannabis and will avoid activities that don't involve smoking, you probably have a marijuana use disorder.
Withdrawal from family activities and hobbies: Do you find yourself withdrawing from family activities and hobbies? Prioritizing substance use in private or spending more time with substance-using friends can indicate the beginning of an addiction.
Excessive use: Check to see if you are taking larger amounts of marijuana or using it for longer periods than usual or recommended.
Unsuccessful attempts to cut down or control use: If you are trying to quit or cut down on marijuana use, have you been successful? Persistently desiring to reduce substance use but being unable to usually indicates an addiction.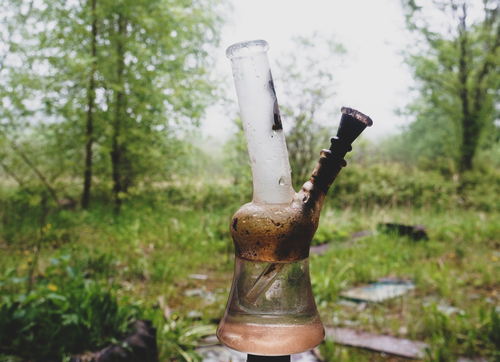 Addictive Vs. Habit-Forming
Many cannabis advocates claim marijuana, in this case, Delta-8, is only habit-forming and non-addictive.
Habit-forming behaviors are often developed unconsciously and can be either healthy or unhealthy. They involve repeated actions that create neural pathways in the brain, leading to automatic responses. Breaking a habit usually requires willpower and awareness of the behavior to make conscious changes. For example, if you start smoking marijuana and immediately become a daily user, it's probably a new addiction. But if you smoke marijuana or Delta 8 THC once and again a few weeks later, it's probably just a bad habit.
On the other hand, addiction involves a conscious engagement with a substance or behavior that alters the brain's natural chemistry. Addiction leads to increased dependence and tolerance, requiring larger amounts or more frequent engagement to achieve the desired effect. Overcoming addiction often requires professional help, as it can cause intense cravings and triggers that can be difficult to manage alone.
Does Delta 8 Cause Withdrawal Symptoms?
Yes, Delta-8 can cause individuals to experience withdrawal symptoms if they've developed a dependence and attempt to quit or cut down. However, there is limited research on its withdrawal symptoms. While some users may experience mild to moderate withdrawal symptoms when they stop using Delta 8, the majority of users do not.
The most commonly reported symptoms include temporary irritability, physical discomfort, and difficulty sleeping. These symptoms typically last only a few days, and the withdrawal process is usually mild. For example, you might notice you or a friend trying to quit smoking marijuana or using Delta 8 become upset at minor inconveniences, feel bored while socializing, or feel uncomfortable in almost any setting.
Read more: Is Drinking or Smoking Marijuana Worse for You?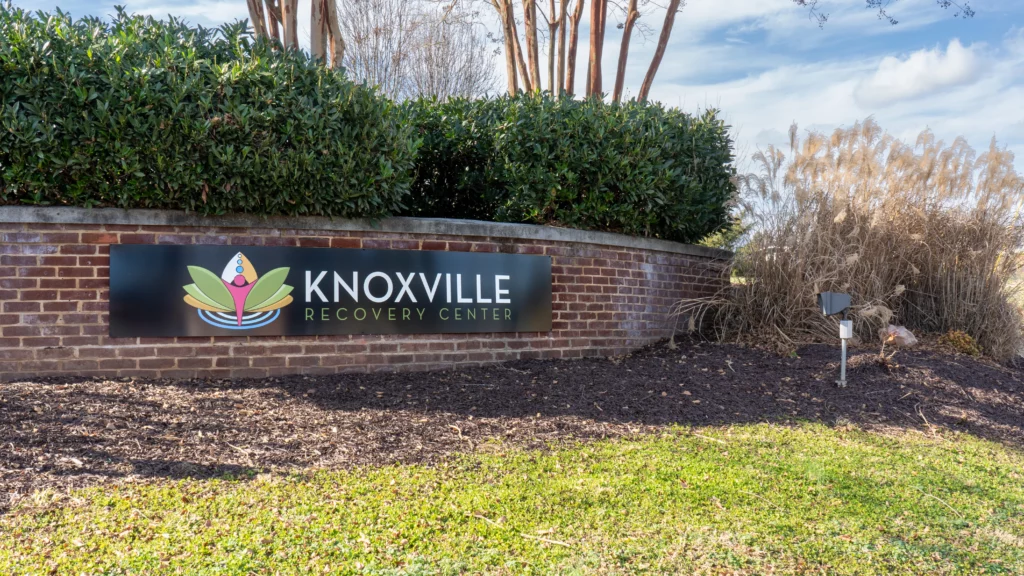 Delta 8 & Marijuana Addiction Treatment In Knoxville
If you or a loved one is struggling with quitting Delta 8 or any other form of THC, contact Knoxville Recovery Center. Our addiction treatment program focuses on the beginning stages of recovery, helping individuals process uncomfortable withdrawal symptoms through detox and explore the underlying reasons behind substance abuse through various therapy methods. Call today to learn more, and one of our admissions agents can answer any preliminary questions.