Nutrition impacts our entire body's ability to function properly, and notably impacts our brain. In recent years, more and more integrative models of healthcare have popped up, which are embracing care through the lens of that person's entire life—from trauma to lifestyle choices, to diet, exercise, chronic health conditions, and so on. Practices such as "nutritional psychiatry" are embracing the gut-brain connection and treating patients' nutritional imbalances while also treating their mental health conditions.
Nutrition and Mental Health: Why Food Is Important
Our diets and the foods we eat can have a massive impact on our mental health. The standard American diet (SAD)—also sometimes referred to as the Western diet—is characterized by a high intake of processed foods, red meat, processed meat, sweets, and fried foods. It is high in sugar, fat, and is highly processed. In contrast, "traditional" diets such as the Mediterranean diet and Japanese diet tend to be high in vegetables, fruits, fish and seafood, and unprocessed grains.
Ready To Learn More?
Download Our Therapeutic Nutrition eBook Today!
"*" indicates required fields
They typically contain much smaller amounts of dairy and lean meats and do not contain processed foods and refined sugars. Studies have shown that when comparing the standard American diet to these "traditional" diets, the risk of depression is 25% to 35% lower in those who eat a traditional diet.
When we are consistently consuming foods that lack the vital nutrients our body needs to function properly, we can develop nutritional deficiencies that affect not only our physical well-being but also our mental wellbeing. For example, iron deficiency—which is the most common nutritional deficiency in the world—can lead to depressive symptoms, as well as extreme fatigue, apathy, and poor concentration. Magnesium deficiency can lead to irritability, anxiety, and sleep disorders, among other symptoms. Data suggests individuals deficient in Vitamin D may experience symptoms of depression as well. Other vitamins and minerals that play important roles in cognitive function include B vitamins and Omega-3 fatty acids.
Although supplements of these vitamins and minerals can often effectively treat deficiencies, it is crucial to establish a baseline of health founded on a nutritionally dense diet. Diets high in sugar and processed foods can cause inflammation and disturbance throughout the mind and body that cannot be masked or treated by a handful of supplements. A balanced diet is key to mental health.
Knoxville Recovery Center
At Knoxville Recovery Center, our therapists and certified professionals provide comprehensive, individualized care to our clients. Services offered at Knoxville Recovery include: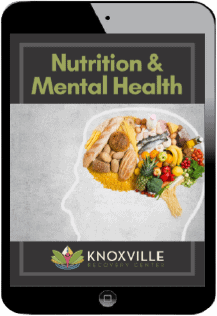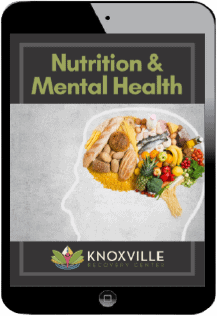 Detox – Our on-site detox clinic accommodates and supports clients as the body sheds all residual traces of drugs and alcohol. Clients are under medical supervision during the detox process to ensure that they remain safe and comfortable.
Addiction Treatment – During our addiction treatment program, clients will engage in introductory therapies and exercises that work to prepare them for continued, more intensive treatment outside of our facility. The goal of our addiction treatment track is to stabilize clients so that they are treatment-ready.
Mental Health Treatment – Our mental health treatment program introduces behavioral therapies rooted in self-expression and holistic exercise. Art therapy, music therapy, and yoga are just a few forms of therapy we offer at the center. Our goal is to help the client reclaim their voice and expose them to treatment within a professional facility.
Aftercare Planning – Aftercare is designed for individuals who have benefitted from our introductory addiction services and are transitioning into a more intensive addiction treatment program. Once a client is stabilized, they will be encouraged to pursue continued addiction treatment. Our experienced case managers will then work with our clients to place them in a program that addresses their specific wants and needs.
Addiction is difficult to overcome alone. If you feel that you or a loved one is struggling with drug and alcohol abuse abuse, our specialists are on standby and ready to help. Call Knoxville Recovery Center and speak with one of our specialists today.